Burglar Confuses Man's Cremated Remains As Cocaine, Snorts Them.
Two thieves thought they scored a good stash when they entered the home of a Florida woman's house. but instead what they got was a 'buzz kill' when they realized the "cocaine" they stole was not drugs, but a dead man's ashes.
The two burglars took many things, including an urn containing the residents father's remains. They also took a container where the ashes of her two deceased dogs were stored, according to Sheriff's report obtained by The Smoking Gun.
The report read, "The ashes were taken from the house and had been mistaken for either cocaine or heroin. During the conversation, it was learned that the suspects had snorted the ashes believing they were snorting cocaine."
The teen robbers later saw a news report that the woman's house had been robbed, in which they revealed that the ashes were among the stolen items. The report states that they wanted to return the stolen remains, but were discouraged by other individuals because they knew their fingerprints could be easily detected.
Instead of risking being caught, the thieves tossed the ashes into a lake. The details of the burglary did not emerge until the suspects were arrested for another robbery attempt.
Who in their right mind would ever mistake cremated remains for cocaine? Well, obviously these three. However, some people, like Rolling Stones Keith Richards, have famously snorted ashes on purpose.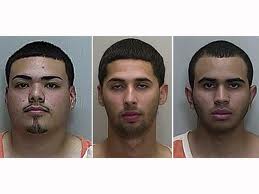 As the rocker revealed in his biography, "As I took the lid off of the box of ashes, a fine spray of his ashes blew out onto the table. I couldn't just brush them off, so I wiped my finger over it and snorted the residue."
Well that's kind of creepy. Anyway, hopefully these three teens learned a lesson about robbing people. I figure they got what they deserved.