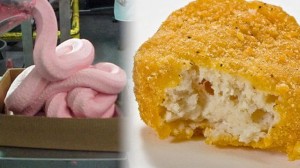 Chicken McNuggets Contain Only 40% Meat, Wait Til You See What Else Is In It. 
The tasty chicken nugget. Call them tasty, call them crunchy, call them quick and convenient. But were not sure you should call them "chicken." This is according to Dr. Richard DeShazo, a professor of pediatrics and medicine at the University of Mississippi Medical Center.
In a research note published in the American Journal of Medicine, DeShazo and his colleagues report on a small test they conducted to find out just what is inside that delicious finger food particularly beloved by children. And what did they find?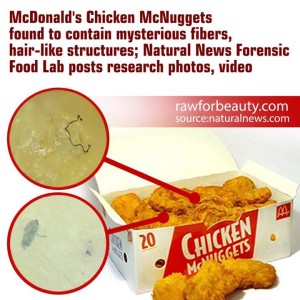 "Our sampling shows that some commercially available chicken nuggets are actually fat nuggets, he says. "Their name is a misnomer," he and his colleagues write. The nuggets they looked at were only 40% meat, at best. The rest was fat, blood cells, nerve, connective tissue and ground bone. The latter, by the way, is stuff that usually ends up in dog food.
When put under the microscope, one chicken sample consisted of just 40% skeletal muscle, what we tend to think of as "meat", and just 19% protein. The other sample was 50% meat and only 18% protein.
While the sample size was obviously tiny, the findings says DeShazo, were nonetheless disturbing. "The predominant component is not healthy, lean chicken meat, or a great source of healthy protein," DeShazo says, "but an adulterated chicken product containing 50% or less chicken meat, with other chicken components, in a suspicion of unknown carrier material."
CLICK HERE —> TO LIKE DAILY BUZZ LIVE ON FACEBOOK!