Share The Knowledge!
Cook Finds 'GOD' In Eggplant.
God has been seen in tortillas, grilled cheese, and now the divine egg plant.
A Louisiana line could claims he found "God" in an eggplant he was slicing while preparing food at an Italian restaurant in Baton Rouge.
It was just another day at work for  Jermarcus Brady when he sliced into a divine eggplant.
When he cut into the eggplant, he could not believe his eyes. The seeds in the eggplant spelled out the word "God".
"I saw a miraculous image formed by the seeds," Brady told WAFB. "When I sliced into it, the pattern showed from the seeds that were forming in the inside… the letters G-O-D as God."
Brady believes God is speaking to him through the eggplant, letting him know everything is ok. " Through the road, he's showing me that 'Hey, I'm real' and that's the only thing I can depend on, " Brady said. "I don't know what it means. All I know is it tells me 'Hey, he's real' and there's nothing that can change my mind about that."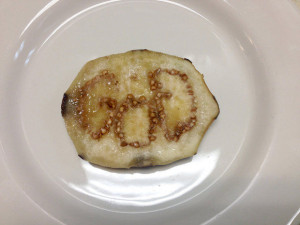 Share The Knowledge!