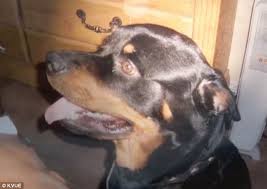 Cops Respond To Home Alarm Then Shoot And Kill The Family Dog. On May 30, 2014 Round Rock, Texas police responded to the Lane family home after a burglar alarm sounded and the owner, who was convinced it was a false alarm, disarmed the alarm remotely from his phone. Despite this, 3 officers who never contacted the homeowner, enter the Lanes' home and encountered their family dog whose name was Bullet. The beloved pet was laying in his room on his futon, and was awakened by their entry. Instead of retreating or using a less lethal option, these officers unleashed several 40 caliber bullets against this eight-year-old Rottweiler who was a treasured member of the Lane family.
The officers were later identified as Ofc. Brent Rechtfertig, Ofc. Andrew Rivera, and Sgt. Jimmy Keyes of the Round Rock, Texas Police Department. As expected, the Round Rock Police Department is blaming the victim, a gentle senior dog. The report states, "The dog shooting incident investigation finds officers acted responsibly, and followed protocol." That title alone is a slap in the face to the Lane family, trying to cope with the loss of their family member.
The Lanes' say in their 'Justice for Bullet Petition', "Our pets are not safe anymore in their own yards and now, like Bullet, they are NOT even safe in their own homes from the very people who are supposed to PROTECT and SERVE our families: the police. Police killing pets is an epidemic in this country." You can sign the petition as well by going to ThePetitionSite.com and signing the  'Justice for Bullet Petition'. You can also share this with your friends on Facebook and Twitter to let them know about the petition and help the Lanes send a message to the Police Chief, Officers, Mayor and Council of Round Rock, Texas.