Farmers Monitoring Cows Digestion With 'Windows' In Their Sides.
Farmers and researchers have fit several cows with cannulas on their sides. Cannulas are holes that are cut directly into the cows digestive track in order to see how food is being processed.
They say that monitoring the energy efficiency of cows helps improve farming methods as well as the environment. Animal rights activists have criticized the activity, calling it cruel and inhumane.
Once the cannula is surgically placed on the cows side, they are sent to graze for a period of time and then examined.
In order to do the examination, farmers must removed the plug and manually reach in to pull out the grass and oat mixture from the cows rumen.
The grass is then separated from the liquid by being squeezed out through a strainer, which then allows the researchers to analyze the contents.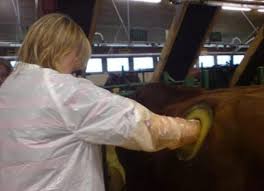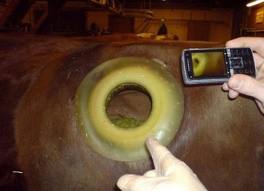 Farmers and researchers claim that the cows feel no pain when being examined. They say the cows are anesthetized during the surgical procedure and are not at all uncomfortable.
They also claim that the cows have a longer lifespan due to the care that they are given.
CLICK HERE —> TO LIKE DAILY BUZZ LIVE ON FACEBOOK!