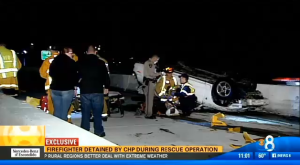 How A Firefighter Ended Up In Handcuffs While Helping Victims Of A Car Accident. RIDICULOUS!! What is going on with police and their ego trips lately? While responding to a Tuesday night rollover accident in Chula Vista, California, a police officer and a firefighter got into a dispute over where the fire engine should be parked. It ended up with a uniformed firefighter in handcuffs.
The California Highway Patrol officer reportedly ordered the firefighter, identified as Jacob Gregoir, to move the fire engine off the center divider he would be arrested. As he worked the scene and checked the overturned car for more victims, he reportedly told the unidentified officer that he would have to check with his captain. That's when the officer decided to detain the firefighter instead.
Gregoir, a fire service veteran for over 12 years, parked the truck behind and ambulance to provide protection to the emergency responders from oncoming traffic. This is a standard safety procedure fire crews are taught.
In the video below, A California Highway Patrol officer can be seen putting the firefighter, still in uniform, in handcuffs while others with the fire crew and officers tend to the crash victims. The firefighter was reportedly put in the back of a California Highway Patrol cruiser and detained for about 30 minutes before being released.