Hobby Lobby Still Covers Vasectomies And Viagra. On Monday the Supreme Court ruled in the favor of the craft store chain Hobby Lobby. They are NOT required to provide the emergency "morning after" pills and intrauterine devices for its workers health insurance plans. Many are yelling 'Hypocrisy' as Hobby Lobby has given no indication that it plans to stop helping its male employees obtaining erectile dysfunction treatments such as Viagra. The craft store chain, which is owned by evangelical Christians, now does not have to pay for contraception for its female employees. Apparently it is prohibited by its owner's religion. However, pills and pumps that help stiffen their male employees is perfectly acceptable to the evangelical Christian craft store owner. This has many people outraged and taking it to social media: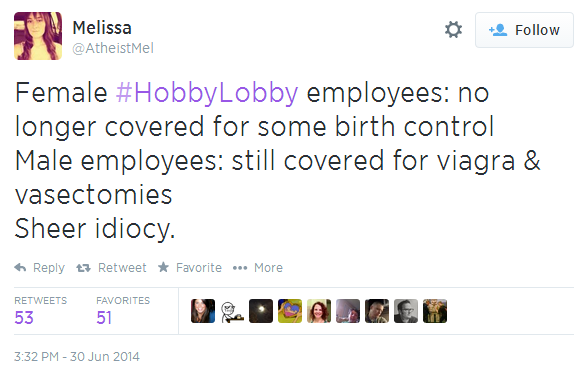 According to Huffington Post, last year a federal court granted Cathlic groups the right to opt out of providing coverage for contraceptives that they equated with abortion or sterilization, such as IUDs and vascectomy. But the groups were happy to flip the bill for treatments that could lead to procreation, such as Viagra. Julie Rovner, a reporter at NPR, wrote a blog post in February 2012 explaining where Catholic groups drew the line on sexual health coverage. "The answer on Viagra coverage is usually yes, Catholic leaders say and they argue that's neither hypocritical nor sexist. Procreation is something that the Catholic Church encourages. And Viagra and other erectile dysfunction drugs can be of help."
Although a provision in the Affordable Health Care Act requires corporations to offer insurance plans that meet minimum coverage standards, the owners of Hobby Lobby and Conestoga Wood Specialties Store, a Pennsylvania wood manufacturer, challenged the provision. They argued that the provision violated their religious freedom. Evangelical Christians have long argued that a pill that could disrupt the first stages of pregnancy amounts to murder. They believe life begins at conception and any disruption of that is equal to an abortion, even pills such as Plan B, Next Choice for Ella. These pills prevent a woman's ovaries from releasing an egg that could be fertilized after unprotected sex. With all that being said, Hobby lobby has still has not explained why it does not object to covering the cost of its male employees vasectomy. The company has not released any statement as of yet. CLICK HERE —> TO LIKE DAILY BUZZ LIVE ON FACEBOOK!