Joan Rivers Tells Selena Gomez To "Shut Up" About Gaza Conflict. Many people and celebrities alike, have been speaking their thoughts over the Israel-Palestine conflict since it has started. We one celebrity, Joan Rivers, is not only talking about it, but she is also shaming Selena Gomez for talking about it herself.
While being interviewed on a news station in Israel, Rivers was asked about the seemingly pro-Palestinian comments that starts like her have been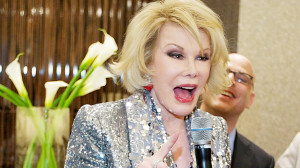 making. Rivers said, "Selena Gomez, who just came out of rehab, who I believe is not a college girl, Rihanna, who is beautiful and not the smartest bulb in the lamp—they see pictures of (dead) children and they go crazy. I think Israel should show pictures of dead puppies and these girls will turn right around." She continued that, "They're not listening. If America were being attacked by Mexico and one rocket came over there would not be a Mexico." Declaring, "These girls should shut up, and put on pretty clothes, and get themselves off drugs."
Rivers is the daughter of Russian Jewish immigrants herself so she may be a slight bit biased on the fact that these girls are taking a side. This is the post that Gomez posted on Instagram a couple of weeks ago, "It's About Humanity. Pray for Gaza. Please pray for those families and babies today. Please always remember what's important in life. It's not any of this. We are here to help, inspire and love. Be that change. #wearethenextgeneration." No where in that statement does it say "GO Gaza" or anything of the sort. It just dismisses any violence, Israeli or Palestinian, saying that we should "remember what's important in life," because, "it's not any of this."
Be as it may, the "Fashion Police" host claims that the militant organization Hamas is to blame for the conflict and that they are using old pictures of dead children every time Israel bombs Gaza. According to her this is making Israel lose the war on the public relations front. "The wrong people, the dumb people are buying into it," she said.
I think if it were the other way around and Israel was the one being bombarded their reaction, that Rivers is claiming is dumb, would still be the same. Generally it's not that people are siding with either country. They just don't want to see horrendous atrocities committed on either side. I never thought I would quote Selena Gomez but, "We are here to help, inspire and love. Be that change." If your worrying about a war on the public relations front your probably doing something that is not right. Check out the disillusioned interview below: