Man Suffers Food Poisoning After Finding Cockroach Leg In Chicken McNugget.
An Edwardsville man says he suffered food poisoning after swallowing part of a cockroach when biting into his chicken McNuggets he purchased on state Route 309.
According to the lawsuit filed, Jesse Shyner is seeking an unspecified amount for illness, harm and injury suffered after he ingested the cockroach, leaving behind a large chunk of the bugs leg that was allegedly placed in his tainted McNuggets.
Shyner's attorney, Michael Cefalo, stated, "We have had it tested. It was deep-fried into the chicken McNugget."
The mother of the victim, Denise Shyner , went to McDonald's to buy lunch for her son, who was working for an electrical contractor. After biting into one of the nuggets, Jesse felt a big crunch that felt juicy and tasted very strange.
When he looked down, what remained was a cockroach leg protruding out of the remaining half of the chicken McNugget. Jesse Shyner began to develop nausea and abdominal pain.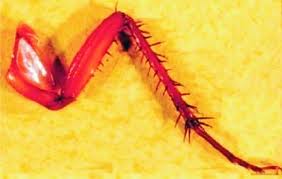 He later went to the hospital as his symptoms escalated into vomiting and diarrhea. Shyner reported that he took the remaining food with him, Cefalo said. The lawsuit states that Shyner "has been unable to fully enjoy his life, society, family and recreation and will be so marked in the future." Cefalo said, "My client just wants to be compensated."