This Mom Poisoned Her Son and Then Blogged About His Death. An internet blogging mommy is under investigation for possibly poisoning her recently deceased son. She frequently blogged about he son's "courageous" battle with sickness,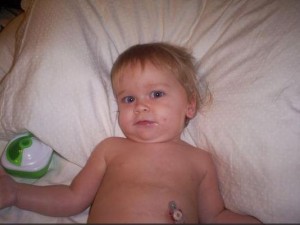 but some are starting to think that she was poisoning him just to get attention.

Lacey Spears, 26, is an upstate New York resident and has not been charged with a crime for the moment. She is however, at the center of an investigation regarding why her 5-year-old son had high levels of sodium in his bloodstream before his death in January. The death has been ruled a homicide. The little boy, Garnett, had been in and out of the hospital his entire life for various illnesses. Spears had been documenting these illnesses in a blog called "Garnett's Journey." Investigators think that if this is true Spears may have a psychiatric disorder called Munchhausen syndrome. This is where a parent sickens a child for sympathy. Spears said that Garnett needed to be fed with a feeding tube his whole life yet some people in her community said that they saw the boy eat food without the assistance of a tube. Also Spears apparently phoned a friend and asked her to get rid of one of the bags she used to feed Garnett through a tube in his abdomen. Police have actually seized the bag and sources say that is contained a high concentration of sodium.

Spears' lawyer denies any allegations that she tried to ditch any evidence in her son's death, but things don't look too promising. The Journal News claims it uncovered a lie that Spears told in which she claimed to be the mother of a boy, Jonathon Strain. She was taking care of him for a brief moment until the mother of the boy saw that she had posted a picture of him and was saying that she was his mother. That's when the mother decided that Spears would no longer be taking care of her child. Whether or not Spears has any mental problems the D.A. told CBS News that "a shoe will drop" in the case in a month or so.