Pentagon Lied About 9/11 Surveillance Video, Edited Out "Plane".
Ever since the tragic events of 9/11 many conspiracy theories have surfaced. Conspiracy theorists insist there is no way a Boeing 757 could have caused the destruction at the Pentagon.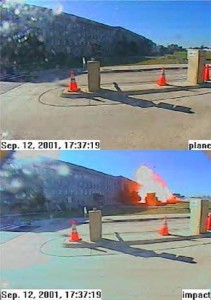 The Pentagon released these still images and video to the media hoping that these frames would put their conspiracy theories to rest. But do you see a Boeing 757? And what about the incorrect date and time?
The Pentagon is one of the largest and most secure buildings and the world. It is the nerve center for the US military.
It has hundreds of cameras surrounding the building both inside and out. So don't you find it odd that with all of this surveillance they cannot detect an airliner that flew into the side of the most secure building in the world? A "blind spot"? I don't think so.
But we as Americans, and the rest of the world, are being asked to swallow this "truth" that happened at the Pentagon on September 11, 2001. But this wasn't the first lie concerning the Pentagon "impact" and possible video evidence.
Initially, the Pentagon denied having any video footage of the alleged impact of flight 77. They would later change their story and release five frames and video in 2002 taken from the north end of the alleged impact site.
The 9/11 commission, a.k.a. The Government, said that flight 77 was flown into the building, killing 64 on board and another 125 in the building.
According to the 9/11 commission, the plane impacting the building was never caught on video. None of the 85 videotapes in the possession of the FBI show the plane. Then there's the issue of the confiscated tapes.
Attendant Joe Velasquez from the Citgo gas station across the street from the Pentagon has stated that the FBI arrived within minutes of the Pentagon event to confiscate the footage from the gas station surveillance camera. Velasquez was quoted as saying that the footage should have shown the alleged impact.
In 2006, footage taken at the station was released showing nothing conclusive. Other footage was confiscated from the nearby Sheraton National Hotel, the Doubletree Hotel, and the Virginia Department of Transportation. The Doubletree tape was later released. It showed the explosion but no airliner.
And if there was no airliner, what happened to the 64 passengers on flight 77? They clearly do not want to show us anything. And they got away with it. Check Out The Video Below!