There was a time we received warnings about sharp blades in food, particularly hollowing candy. We were told not to accept fruit or baked goods, and to make sure all the candy was packaged and sealed for our protection.
Most of us knew then, just like we know now, that those warnings were probably silly. Even still, the narrative was set and people stopped making their own treats for kids.
 And now, a warning from the Jackson, Mississippi Metro Police Department: "If your kids get these for Halloween, They ARE NOT CANDY! They are the new shapes of "Ecstasy" and can kill kids through overdoses. So, check your kids candy and "when in doubt, throw it out!" Be safe."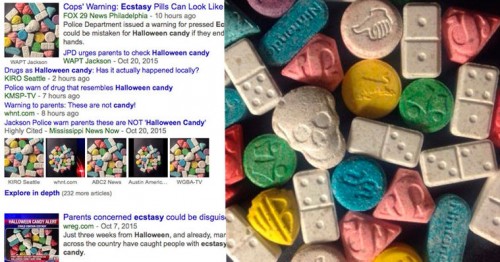 So, is this a warning we should really take to heart? I mean, Ecstasy is not the cheapest drug in the world so should we be concerned about people just "giving drugs away in our kid's candy?" There are some crazy nuts out there so you never know. Either way, share this with your friends just incase and keep your eyes out and look over your kid's Halloween candy. You can never be too careful!