Razors Found Glued To Playground Equipment. Police are asking parents to be cautious and check playground equipment before they let their kids play. Authorities are baffled by who would be so heartless to try and hurt little children by slicing up their hands with razor blades.
A toddler was injured playing on the monkey bars by one of several straight edged razors that were found in the Illinois playground. Two-year-old Madden Jenks was on his dad's shoulders during a play day at Millennium Park. Madden was pretending to be a big boy on the monkey bars when he reached up and came in contact with the razor. Madden yelled "OUCH!", then his dad put him down.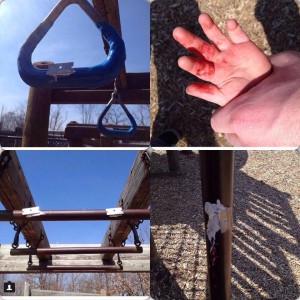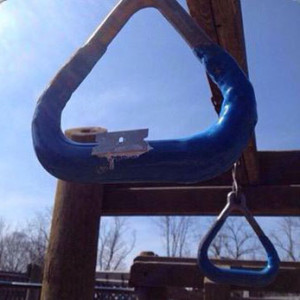 "He started bleeding and we looked and they were everywhere. The razor blades were everywhere," said Madden's mom, Sally Jenks. "They were on the monkey bars, the rock climbing wall, the fire pole, the bottom of the slide. Just everywhere," she said.
Whoever did this, really wanted to hurt someone. They were all placed up, so when you grabbed them it would hit your wrists or your hands. "It's pretty sick. Psychotic. Luckily, it wasn't deeper. He wasn't old enough to put his weight on the monkey bars," said Kenny Jenks, Madden's dad. "I was so upset. It could have been horrible. It could of sliced his hand open completely, if he was older and he was really swinging on the monkey bars and grabbed it. He was just lightly touching it. If he was older, it would have mutilated his hand," Jenks said.
Authorities cannot stress enough how important it is to check the playground equipment before your children go out to play on it. These razors could cut major arteries in the wrists, or transmit infectious diseases. Please be aware!