After Seeing What This Man Found In His Pepsi Can, You Might Never Drink Pepsi Again. A South Bend Indiana man found something in his can of Pepsi that would make anyone puke at the sight of it. Unfortunately, he didn't get to just look at it, but gulped down a chunk of this "something" that was floating in his can of Pepsi. Joseph Hidey, did what he does every day and reach for a can of cold Pepsi. He cracked it open and took a large gulp. Much to his disgusted surprise he also swallowed, along with the soda, a chunk of "something". He was sick to his stomach. He had accidentally swallowed something which appears to be a chunk of skin covered with hair, which possibly may or may not be human! "We opened the can up and found another piece of what looked like skin with hair attached," said Hidely. The offending 12 pack was purchased from a Walmart near his home.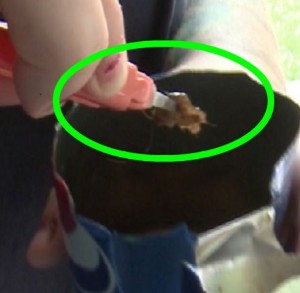 Hidely has retained an attorney to make Pepsi accountable for this skin and hair, that came from "who knows what". Is a human? An animal? No one knows just yet. Hidely's attorney, Pete Agostino, has made the following statement, "They sent representatives here to pick up a sample, as well as the can and two other cans that were left. And those are going to be sent to a laboratory for investigation, determination and analysis. It will take several weeks for the results to be certified." Until then, Hidely and his attorney are anxiously awaiting the results. Hidely also kept a small portion of the skin and hair so he can seek his own investigation. "I want to know what's in it because I want to know what I ingested. Was a human, or is it an animal?" Said Hidely. It is important for him to know if this "something" is potentially disease ridden or not.
Pepsi released the following statement: "The safety and integrity of our products is our highest priority. We have reached out to Mr. Hidely directly about this claim, which came into our after hours call center on Sunday and we will thoroughly investigate the matter." After reporting the incident to the Pepsi call center, Hidely was told that someone would be out to pick up the cans and the hair and skin sample the next day. A laboratory technician arrived at his home on Monday and collected the two remaining cans as well as the can in question. We can only hope that the tests come back negative for human flesh! CLICK HERE —> TO LIKE DAILY BUZZ LIVE ON FACEBOOK!