Teen Bites Into Banana Containing Dozens Of Spiders.
You may never, ever, EVER eat a banana the same way again. Hannah John, 17, screamed in terror while she was in class after finding a spider's nest inside of her banana.
Her horror intensified as she realized there were dozens of the tiny creatures inside of it.
"I took the banana into school to have in the morning but I spotted something," Hannah said. "There was a hole in it and inside there were about 80 tiny spiders."
"It was horrible," said her classmate Georgia Davies. "It looked like it was just a bit of tissue paper but when you looked closer you can see lots of legs inside the hole. It was disgusting."
After inspecting the fruit, her biology teacher confirmed that the spiders were not alive. Hannah found a garbage can outside of the classroom and quickly threw it away.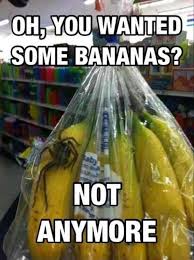 It's a good thing Hannah decided to rip the banana off piece by piece to eat it. If she would've ate the banana like you normally would, she would've had a mouth full of dead spiders.
Does Hannah's story make you think twice about biting into a banana? Will you be breaking off your banana piece by piece from now on, inspecting the inside?
You just might want to!