Toddlers Overdosing On Medical Marijuana Is On The Rise. Doctors at the Banner Poison and Drug Information Center in Phoenix Arizona are seen a dramatic increase in the number of young children overdosing on marijuana. In some extreme cases, doctors say toddlers have been admitted to the emergency room comatose.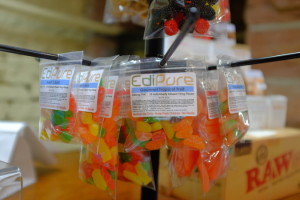 "I remember one case where a child ended up getting a lumbar puncture, a CAT scan. And about a day into it, a half a day into it, ended up getting a drug screen, which is something we don't normally do on a one-year-old," said Dr. Frank LoVecchio, the co-medical director at the poison center.
In 2013, the center saw 10 cases where young children showed signs of marijuana exposure. In the first 8 month of this year, it has already seen 13 cases. "Almost all of the cases that I am aware of are from children eating some form of marijuana," said LoVecchio.
They are eating it because one of the most popular ways to consume marijuana is in brownies, cookies and candy. Marijuana users call them "medibles."
In marijuana dispensaries across the country, you can buy prepared candy and sweets for as little as $12 per batch. Under state guidelines, holders of medical marijuana cards can purchase 60 of the treats every two weeks.
One marijuana sales rep said the human body metabolizes the  "medibles" and makes them more potent than marijuana that is smoked. It's the fact that the drug is cooked into candy that concerns doctors.
"Children can't recognize whether it's a real lollipop or a medical marijuana lollipop," said LoVecchio. "In an ideal world we would say, 'Make these things childproof', you know. That's a first step that would be great."
CLICK HERE —> TO LIKE DAILY BUZZ LIVE ON FACEBOOK!