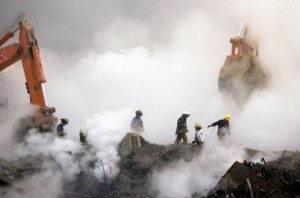 3 FDNY 9/11 Heroes Who Worked At Ground Zero Die Of Cancer On The Same Day. The Associated Press reports that 3 retired firefighters who worked at Ground Zero have died within hours of each other on the same day of cancer. A cancer that many fear might be connected to toxic World Trade Center dust released on September 11, 2001.
The heroes being remembered are Lt. Howard Bischoff, 58, and Figherfighters Robert Leaver, 56, and Daniel Heglund, 58.
Fire Commissioner Daniel Nigro said in a statement, "Their deaths are a painful reminder that 13 years later we continue to pay a terrible price for the department's heroic efforts."
Thousands of people who aided in the rescue and recovery efforts were diagnosed with respiratory ailments and other health problems in the the years after the attcks. Cancer, though, remains the biggest fear for people exposed to the gritty soot at the site.
Some are still wondering if this was an intentional biological attack on the United States, to keep the death toll rising even years later. How many more are set to die?
Hundreds of first responders have gotten cancer over the last 13 years since the attack, and researchers have spotted some worrisome trends in the increase of cancer rates.
Congress has set aside $2.78 billion to compensate people with illnesses that might be related to the attacks. Administrators of the fund have included the most common types of cancer as qualifying illnesses.
"On the day when first responders arrived, the air was toxic and remained toxic for many months afterwards," said James LeMonda, president of the uniformed fire officers Association.
the FDNY lost 343 firefighters on that tragic day. An additional 89 firefighters have died from illnesses.
CLICK HERE —> TO LIKE DAILY BUZZ LIVE ON FACEBOOK!