79-Year-Old Grandmother Goes Missing, Is Found At Tattoo Parlor Getting Her First Tattoo
This 79-year-old great-grandmother, Sadie Sellers went missing from her care home and when her son arrived she was nowhere to be found. Well it turns out she left unannounced to get her first tattoo, ever.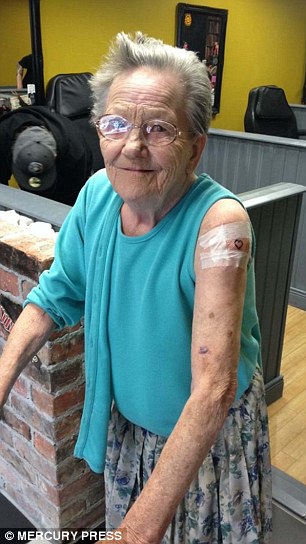 The great-grandmother of 11 and retired civil servant of Ireland had been asked by some people at the tattoo parlor, Tattoo Studio 76, what her family would think about her getting the tattoo and she replied with, "I don't f***ing care." She told the Daily Mail, "When you get to my age, you just have to live life to the full every day." It seems that her grand-daughter Samantha was the inspiration for the tattoo, "I was talking about it with Samantha for a couple of weeks and she showed me hers…and I thought well, I'll get one too."

Tony Sellers, Sadies son, visits her on a daily basis. So when he arrived only to find that her room was empty he was clearly worried. When Sellers had asked the staff where she was, they replied that his daughter Samantha had been there earlier and Sadie was out with her. At that point Tony was sure something was up.

He then texted his daughter, "She asked me to meet them near a restaurant in town. By this stage I had this feeling in the back of my mind that something wasn't right, but I couldn't put my finger on it."

When he got there he spotted his daughter and mother, not in the restaurant, but sitting inside the tattoo parlor. "I went in all I saw was three big lads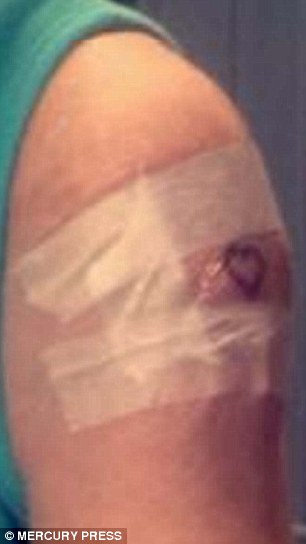 in their 20s, covered in tattoos, and there in the middle was mum getting one herself. They all thought she was fantastic." Tony Sellers said.

Sadie said that she never felt a thing and it only took about five minutes. Do you think your mom or grandma would do something like this? Share this article with your friends and let us know.