ALERT: Metal Shavings Found In Kraft Mac & Cheese.
Facebook user Dana Mash publish this photo on her Timeline on January 25, 2015 explaining that she spotted metal shavings in her son's Macaroni and Cheese Easy Mac single serving bowl.
Mash posted on Facebook:
PSA!!! While feeding my son this bowl of Kraft Macaroni and Cheese Saturday evening (1/24/2015), I happened to look down halfway through the bowl and saw something that looked off. I took the bowl in better light and picked one of the pieces and immediately packaged up the leftover macaroni and cheese. We took our son to the ER and had x-rays done to ensure he did not have any that he had ingested. X-rays looked clear thankfully. I have contacted Kraft per the number on the side of the container. They are closed at 7;30 on a Saturday night but they do give out their medical response number, which I called next. They took down the lot number and expiration date of said package along with my contact info and complaint. The representative said someone would be contacting me in a couple of days and to save everything. Since this could possibly take a while to get the word out about this lot of Kraft Macaroni and Cheese in the single-serve microwavable containers possibly containing sharp metal shavings, I am putting everything out there publicly now and ask you to help me spread this info. Please share!
On January 27, 2015 Mash posted another update explaining that Kraft had contacted her about the incident:
 I just got off the phone with a nice representative from Kraft. He asked what had happened again on Saturday evening and I explained everything to him in detail. He was very apologetic and wanted to make sure Logan was okay. He is sending a messenger service to pick up the leftover macaroni and cheese and metal pieces to send to a lab for testing. They are already working on investigating their processing plant where these bowls were manufactured. He said he would contact me about their findings after their reports come back. I will be sure to update everyone on those findings as soon as I hear something.
Here is the lot number and the expiration date. You should immediately throw away any Kraft macaroni and cheese in the single-serve microwavable containers that match this expiration date and lot number. Just to be safe, you might not want to eat any of them at all!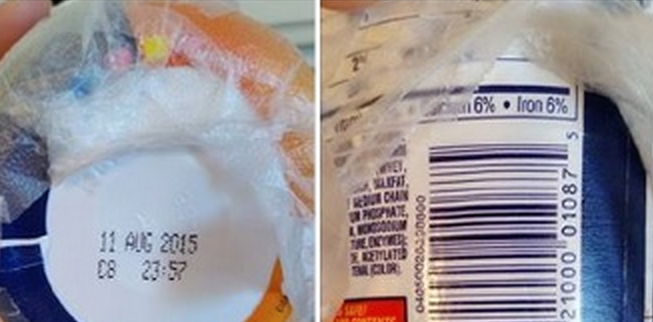 Share with your friends that serve their children these Kraft Macaroni and Cheese single-serve microwavable containers.