Alien Statue And Plinth Found On Mars, You Decide.
Thanks to the Curiosity Rover we are able to see things that we normally would not get to experience.
Recently a new photo capture by this rover has been released by NASA.  Curiosity Rover was capturing photos across a sand dune into the "Dingo Gap" when it caught a strikingly familiar image.
The video shows an object that resembles half a head with the other half  more than likely buried in the dirt. This object has angles that resemble a face, a plinth in design.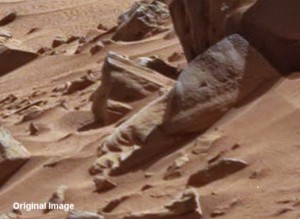 You can clearly see that the statue has eyes, nose and mouth. This is compelling evidence to some that Mars once had life. Take a look at the video and pictures, are you convinced?