Coconut Crabs, Not Something You Want To Find On The Beach.
Sure, it might look like an escaped mutant spider from a government research laboratory, but it's just your average coconut crab.
The coconut crab is endemic to a variety of islands of the Pacific and Indian oceans, though ift's populations are extremely threatened.
It is the largest land living arthropod in the world and can weigh up to 10 pounds, growing 3 feet in length. To get that big, crabs need to eat a lot.
Coconut crabs come out at night to feed, loot, raid and plunder. The crab is known for its ability to crack or pound open coconuts with the strong pinchers it possesses.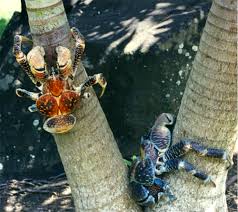 The soft white meat of the coconut forms the main part of the crabs diet. Besides that, the crabs a been known to feast on chickens, kittens and other fellow coconut crabs.
I definitely would not want to come across one of these creatures at night!