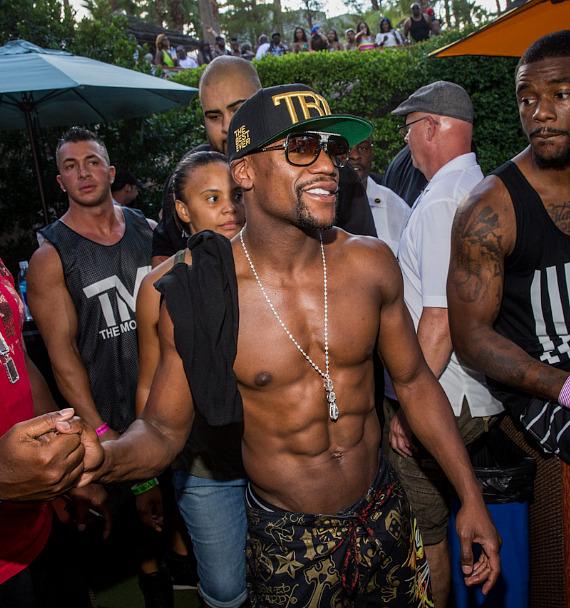 Floyd Mayweather Stiffs Waitress After $32M Fight. Floyd "Money" Mayweather took his entourage to the Rehab at the Hard Rock Hotel Sunday afternoon with about 150 people. Apparently Rehab ended up comping the meal to Floyd, and all the waitress was left with were chicken bones and empty bottles. The total bill, $25,305. The waitress, Nik Nguyen, told TMZ that she thought she had hit the jackpot when Floyd walked into Rehab at the Hard Rock and sat in her section. Floyd and the crew ordered:
5 bottles of Patrone – $2375
3 bottles of Grey Goose – $1425
6 bottles of Ciroc – $2850
20 bottles of Luc Belair Rose champagne – $11,500
1 – 6 L bottle of Luc Belair Rose champagne  – $6500
200 chicken wings – $600
one fruit platter – $55
She said it really upset her because some of the people in Floyd's entourage, including Jamie Foxx, were throwing money at random girls who worked twerking on stage. Nguyen says she has been struggling with two jobs and the recent death of her father, but she didn't walk away empty handed. She says security guards felt so sorry for her they scooped up a few bucks the twerkers left behind and gave it to her. TMZ has called Floyd's team, but so far, no comment.