This Is What Happens When You Don't Serve Chicken Nuggets For Breakfast.
Last year, a Toledo Ohio woman, Melodi Dushane, assaulted a drive through worker at McDonald's for not serving McNuggets for breakfast.
According to police, she loves chicken nuggets so much that when she found out McDonald's was not serving them in the morning, she became outraged.
She jumped out of her car and began growling, screaming, and trying to open the window. Dushane warned, "Don't make me assume my original form."
Once she realized she was going to be unsuccessful at opening up the drive-through window, she got back in her car, reached for an object, and broke the drive-through window.
Dushane was arrested and treated for her injuries. The McDonald's employees did not report any injuries to police, and announced they will be serving McNuggets promptly at 11 AM.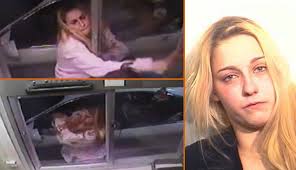 The Grand Jury indicted Dushane on a vandalism charge. She claims she was drunk at the time of the incident and received 60 days in jail. She has also been ordered to pay the fast food chain the cost of the broken window.
At her hearing, Dushane pleaded not guilty to one count of vandalism and two counts of assault.