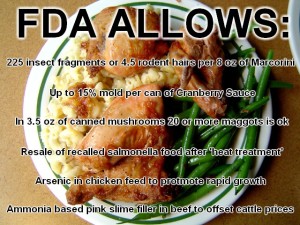 FDA Sets Allowable Limits For Bugs In Our Manufactured Foods.
FDA: "A Few Fly Eggs Never Hurt Anyone". The FDA has set allowable levels of "natural contaminants" in our consumer food products. These include the allowable amount of insect fragments companies can get away with when packaging our food.
The following lists shows what is permitted on your table and comes directly from the FDA's "Food Defect Action Levels" handbook:
Chocolate: 60 or more insect fragments per 100 g
Noodles: average of 225 insect fragments or more per 225 g
Citrus fruit juices, canned: five or more Drosophila and other fly eggs for 250 mL or one or more maggots per 250 mL
Peanut butter: average of 30 or more insect fragments per 100 g
Tomato paste, pizza sauce and other sauces: average of 30 or more fly eggs per 100 g or 15 or more fly eggs and one or more maggots per 100 g
Ground paprika: average mold count is more than 20%; where average of more than 11 rodent hairs per 25 g
So does anybody mind just a little extra protein? After all, about 80% of the global population eat bugs as part of their regular healthy diet. From crispy seasoned cricket to water beetles and bamboo worms, some people find it a tasty snack.
But when you're privileged to live in a first world country, such as America, I think most of us will gladly choose not to have that in our diet. However, thanks to our government, and the FDA, we really have no choice but to join in. Bon appétit!
CLICK HERE —> TO LIKE DAILY BUZZ LIVE ON FACEBOOK!