High Levels Of Fecal Matter Found On Lemons In Restaurants.
We have all seen it before right? You go to a restaurant or bar, ask for some lemons with your drink, and the server reaches over with their hands to retrieve the slices.
It's a blatant health code violation, but it happens every day. A slice of lemon or lime can definitely spruce up your water or your beer, but you might be getting a little more than you bargained for in your beverage. That garnish could be serving up a host of unappetizing organisms.
In one environmental health study, researchers swabbed the rinds and flesh of 76 lemons from 21 restaurants. They collected them during 43 visits and found that over 70% of them produced microbial growth.
The samples were collected as soon as the beverage was served, before the researcher ever drank or touched the drinks.
The researchers wrote in their report, "Although lemons have known antimicrobial properties, the results of our study indicate that a wide variety of microorganisms may survive on the flesh and the rind of a sliced lemon. Restaurant patrons should be aware that lemon slices added to beverages may include potentially pathogenic microbes."
Other experiments, including one commissioned by ABC news, found that half of the lemon wedges collected from various restaurants were contaminated with human fecal matter.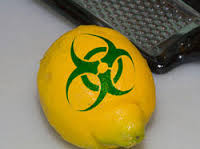 The ABC news cameras also caught the employees handling lemons with their bare hands. Restaurant employees may not be diligent in washing lemons or rinsing them and often may cross contaminate by slicing the fruit with a knife that was also used on chicken.