Hospital Morgue Infested With Rats, Entering Corpses.
If you have a weak stomach, this probably is not good for you to read! An employee at Providence Hospital in Washington DC said the rat infestation in the morgue was so bad, she had to speak up.
The rodents were entering the corpses through the vag!na and anus, violently attacking the workers who tried to remove them. Doris Kennard won a $237,000 judgment for emotional distress against the hospital.
She filed the lawsuit after working in the hospital and watching rats chew through the body bags to feast on the cadavers. One rat even attacked her, landing her in the hospital.
Kennard's job was to clean the deceased. The documents state that during one incident she pulled out of a corpse what she believed to be a string of a "tampon" and it turned out to be a rat, which then bit her.
She said the problem was so intense, she could not get anybody else to work with her. Kennard suggest the problem may have began when the morgue's coolers broke down.
At that point bodies warmed up and probably attracted the rats from a nearby hospital trash compactor. Kennard's attorney, Gregory Lattimer, accuse the hospital of a cover-up in the report and said the infestation has persisted for decades.
The hospital gift shop was closed by health inspectors in January after they spotted rodent droppings and a "bag of food chewed on by some sort of pest."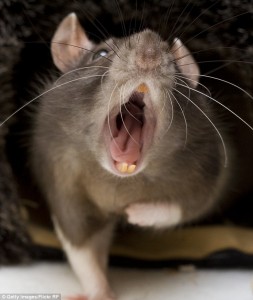 The hospital's attorney, Hugh W Ferrell released the following statement: "We vehemently disagree with the verdict and will file an appeal. At the t
ime of the alleged incident, a thorough investigation was completed by the hospital and the District of Columbia Department of Health which revealed no truth to the allegations. There was absolutely no evidence of the alleged rat activity. We look forward to correcting this verdict on appeal."