L'Oreal Fires Teen Model for Posting Hunting Photos on Facebook: Smart Move or an Overreaction? If you paid any sort of attention to the World Cup, you'll definitely recognize this face. Axelle Despiegelaere, a 17-year-old from Belgium, was discovered quite literally by happy accident. The camera panned over the crowd section that she happened to be sitting in, and she was at that time deemed the most beautiful football supporter at the tournament. Almost instantaneously, Ms. Despieglaere was contacted by L'Oreal and offered a modeling contract, which she graciously accepted. She was everyone's new favorite face for exactly three days; Despiegelaere's Facebook was her demise. It turns out she was doing a little more than observing on the African safari trip she took the previous year. A series of photos from the teen's Facebook albums show her posing next to a dead Oryx Antelope…holding a rifle. Those photos — you guessed — went viral shortly after her name gained ANY sort of popularity. Here's one of them: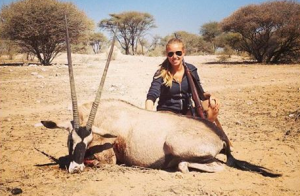 Her contract with L'Oreal was terminated shortly thereafter, but the brand refuses to say whether or not it was in response to the photos. There are a few lessons to be learned from Axelle's quick downward spiral:
1) Don't hunt endangered wildlife,
1a) Do not PHOTOGRAPH yourself hunting endangered wildlife, and
2) Be cautious with social media posts; Once you hit 'upload,' it's on the internet forever.