The Box Shows You Tomorrow's Weather Forecast Using Real Rain and Clouds.
So if you thought that analog technology was dead, wait until you see this. It's called the Tempescope and it's responsible for telling you the day's weather forecast, but instead of relying on a cell phone or computer screen to tell you, it shows you the weather using real raindrops and clouds.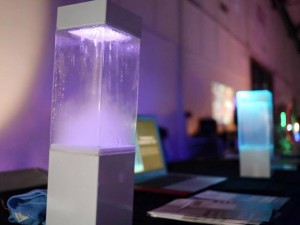 This concept was created by Ken Kawamoto, a software engineer who also invents things like this. He likes to "break the barrier between the digital world and the real world" when inventing. The device interfaces with internet weather forecasts and can give you the entire day of weather, hour by hour.
Kawamoto released this technology to the public through open source. That means that all the source codes and schematics can be found online for anyone who feels adequate enough to build one themselves. As for the rest of us non-tech savvy people, he will be launching a crowd funding campaign later this year. The only downside is that the Tempescope can't produce snow. Check out the video below: